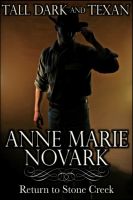 The Particulars: Contemporary Romance, Smashwords, available as e-book. 
Former bad boy Mitch Defalco roars into Stone Creek, Texas, on the back of a Harley with his newly discovered daughter riding behind him. Single mom Sarah Cooper cannot believe he's moved in next door. She had a secret crush on him years ago when he dated her older sister back in high school.

As Mitch tackles the responsibilities of fatherhood, Sarah admires the way he's turned his life around. She asks him to help her with a personal problem: Her fear of men. Mitch knows he's bad news for sexy Sarah, but how can he refuse her dangerous request, when she's determined to move forward with or without his help?
 The review:
This another book that languished unread for a long time. I am glad that I finally read it, though.
I fell in love with the setting. Everyone knows everyone, but I also liked that the book took up the backside to that. Namely, that everyone judges Mitch for his wild past ( except his family). I liked the interaction between the characters. The love that you could sense between Mitch and his family. The awkwardness between Mitch and his daughter. The experation Sarah feels towards her mother.
I loved how Mitch and Sarah's relationship gradually changed from neighbors to lovers. It felt realistic, and I liked that it was sweet. As a counter to that, there was Lindsay and her struggle to adjust to the fact that she had a dad, and that he actually treated her well. I loved this. Loved seeing her becoming more secure in herself.
So for the fact that I didn't like. I never felt that their HEA was threatened. Yes, their relationships had it's ups and downs but I never felt that they were on the verge of breaking up.