On my To Check Out list: Indie authors, part two
On my To Check Out list: Indie authors, part two
This is the second post in my series of blogposts about books  On My To Check out list.  I also try to add why I haven't got them yet. 
Taziri had a promising career as an airship engineer and inventor until an explosion tore through the airfield, incinerating the fleet and killing most of the Air Corps. Now, Taziri is the only pilot left to help the marshals chase the killers across the skies of Marrakesh.
The investigation ranges across the country on steamships, atop racing locomotives, and into ancient tombs. Taziri discovers a corrupt doctor performing hideous experiments, hiding lethal weapons inside the killers' bodies using Taziri's own inventions. And with assassins in every shadow and riots on every street corner, Taziri quickly learns to defend herself as only an engineer can – with her machines.
The marshals have one other problem: they're men. And in a country where women control the government, the military, and the most powerful industries in the world, Taziri has a clear advantage. But despite all her efforts, her country's only hope for survival may be an exiled Incan princess riding a giant eagle, a dashing swordsman who talks to ghosts, and Taziri's airship Halcyon plummeting out of the burning sky.
This book have been on my check out list ever since it was released. The blurb intrigued, me the cover was Ok ( it is much nicer now), I read the sample and enjoyed it. I still haven't bought it.
However, he offered a free novella recently, set in the same world which I downloaded.
If I like that one, I'll probably get this one :). Edit: Woot!  I just discovered that the author offers it
for free
from his homepage, so I downloaded it.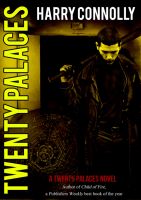 When Ray Lilly was 13 years old, a handgun accident landed his best friend, Jon Burrows, in a wheelchair and turned Ray into a runaway and petty criminal. Fifteen years later, Ray returns home after a stint in prison; he's determined to go straight, but he knows he can't do that without making peace with his old friend.
What Ray doesn't expect is to discover that Jon has just received a mysterious cure–not only is he out of his wheelchair, he seems stronger and faster than… well, pretty much anyone. Worse, his cure has drawn the attention of all sorts of attention: the media are camped out on his block, the police are investigating him for insurance fraud, and weird shadowy figures have begun to draw closer, figures who clearly do not mean to do Jon any good.
Can Ray atone for the biggest mistake of his life by protecting his oldest friend? And what terrible price will the world have to pay if he succeeds?
This is a prequel to Harry Connelly's Twenty Palace novels, which are available in print in all major bookstores. I have been curious about Harry Connelly's books, but I never got around to buy them.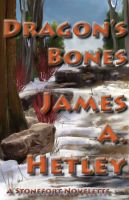 Few things about Stonefort are exactly as they seem.
Stonefort, small fishing village and harbor and township and island, sits off the Maine coast, about as far Down East as you can get without passing through Canadian Customs. Only the Salt Hay Bridge connects it to the mainland and rest of the Boston States. If you held a vote, probably more than half of the residents would choose to blow up that bridge and all it implies.
In this latest installment in the Stonefort saga, Maine author James A. Hetley revisits the tough land when a logging camp becomes the center of illegal activity in this world and perhaps in another as well. Nurse and cop, both must face a special duty in the face of Dragon's Bones.
I love James Hetley's books, and the only thing that have stopped me from buying this one is the price: 2.99 for a 14 000 words long story. I'll probably buy it sooner or later, though. 
* Click on the covers to get the Smashwords edition.