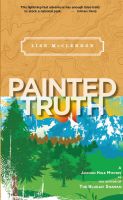 The Particulars: Mystery, Smashwords, e-book
The Source: Purchased at Smashwords.
The Grade: B-
The Blurb:
Alix Thorssen's partnership with sexy Paolo Segundo is at a crossroads. When another gallery on the town square burns, revealing the body of a famous artist, she is drawn into the investigation as an appraiser of the lost paintings. Ray Tantro was a has-been at 30 but was on the verge of a comeback. Why would he commit suicide? Why are the police so quick to dismiss foul play? The investigation makes her confront her own contradictions as an art lover, turning everything she knows upside down. She must examine her ethics and even her way of life to find the truth, and justice.
But not without a very high price.
The Review:
This is another book that have remained unread for awhile, before I got around to read it. ( Ok, I forgot add it to Calibre.) It was also a book that didn't hook me immediately.  The setting was quaint, and I liked the characters, but it took me awhile anyway.  
I think it has to do with the fact that Lise McClendon took her time building the stakes.   As they increased, the illusion that small towns are nice faded.  Fast.  In fact, I think I'll never view small towns as quaint and cozy again.
But what made the book for me was Alix.  Alix is stubborn, curious. Some times too curious for her own good. Does she doubt the wisdom of continuing the investigation? Hell yes.  Who wouldn't when  the bodycount stacks?    
I felt for Alix when everything started to collapsing around her. Her friends abandoning her, the police hounding her. 
So what I didn't like about this book.   First, I had trouble caring about the characters, that and the stakes problem were probably the cause of the problem I had with first half of the book.  Second, there were typos. Not a lot, and easy to fix but it was a bit annoying.
In the end, I liked the book and I intend to read more books by Lise McClendon in the future.